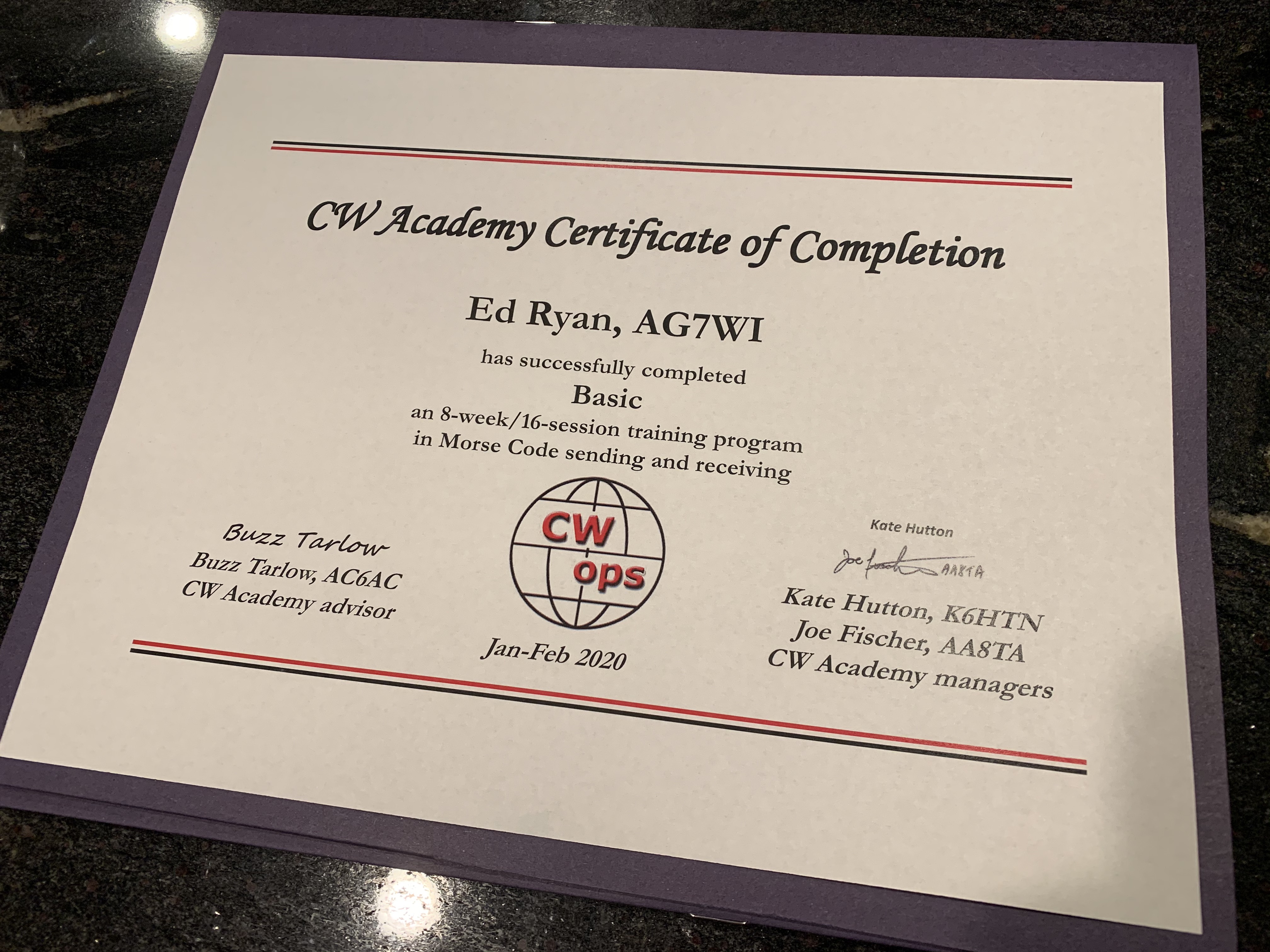 One of my goals since getting my license was to learn CW.  I know there are hams out there that are upset that the CW requirement was removed from license requirements, but on the upside, without the CW test, there can be more people to get into the hobby and on the air.  I've had fun with digital modes and SSB, but both have their limitations.  For digital, the computer does the translation but the narrow bandwidth allows for longer distance contacts under poor conditions.  For SSB, it's easy to communicate, but poor propagation and the wider bandwidth required, limit ability to make as many DX contacts.  With my barefoot rig and compromise antennas, CW is the perfect middle ground – encoded by humans, using a small slice of bandwidth to reach out over long distance to communicate.
Getting started
I started by checking out resources online and gleaned that the best way to learn CW is by recognizing sound versus counting dits and dahs.  So, one resource I came across was a CD (originally in cassette format!) by Jerry Ziliak, KB6MT (SK) titled "High Speed Code 0-21 WPM".  The method used here is to send code at 21 WPM with long spaces between the characters (Farnsworth style).  I used the CD to learn the alphabet, numbers, prosigns, and basic punctuation.  I spend a lot of time driving for my job  throughout my day, so it was easy to put in the CD, and start to learn the basics and commit the sounds of the characters to memory.
CW Ops – CW Academy
During my research I discovered the CW Operators' Club (CW Ops) web page and learned about the CW Academy that they offer.  I took the self-assessment and decided that I should enroll in their "Basic" level course.  Once my enrollment was confirmed and we had a start date, I was a bit nervous about the class.  I was a little shaky recognizing a few characters and still had trouble with recognizing numbers easily, and actually started doubting whether I should back out.  Thankfully, my CW Ops Advisor, Buzz (AC6AC) held a pre-class session and I got online and gained confidence that I should be fine continuing in the Basic course.
CW Academy Format
The format of the CW Academy works well for adult learning styles and schedules.  Classes are twice a week for an hour, and in our case, Buzz offered an additional one-hour Sunday practice session and encouraged us to participate in the weekly CWops Tests (CWT) each Wednesday.  Classes are held online using Zoom video conferencing, and participants send and receive code based on the assignments each week.  CW Ops has a fantastic website and the materials are all posted online and available for free (as is the CW Academy!).  The curriculum is designed around Instant Character Recognition (ICR), learning the characters as patterns of sound versus counting.  I highly suggest reading both Instant Recognition – A Better Method Of Building Morse Code Speed by Nancy Kott, WZ8C (SK), and The Art and Skill of Radio-Telegraphy by William Pierpont (N0HFF), both available as pdf files on the CW Ops site.  Throughout the 8-week course, I continued to develop ICR and speed.  The assignments are available on the CW Ops site and are great resources for anyone wanting to improve their skills.   Our class also focused on learning to head copy – that is, to translate the code in our heads without paper and pencil.  It takes some practice and discipline, especially in "letting go" of missed characters, words, etc., and continue with the rest message.  We also learned to send in order to be understood by the other side of the contact – to communicate –  sending well versus sending fast.
Onward!
After graduating the Basic course I decided to continue with CW Academy and enroll in the Intermediate course, again with Buzz as my advisor.  I think most of my classmates will be continuing on so we will already be familiar with each other and can continue to progress our sending and head copy skills together.  The challenge will be to juggle my schedule with the many Spring chores around the farm (as well as the never ending list of projects to finish).  Thankfully the course is scheduled one hour later so Erica (XYL) won't have to do all of the evening chores while I participate in the course.  I'm hoping that I can also fit in some actual operating time into my schedule since after all, that is the point – to get on the air and communicate!
TLDR
Learn to hear the code as patterns of sound
CW is about communicating thoughts – focus on being understood, not speed (sending)
CW Ops is a great resource and offers classes and material to learn to operate CW